Coventry Schools Exhibition of Elizabeth Wang Images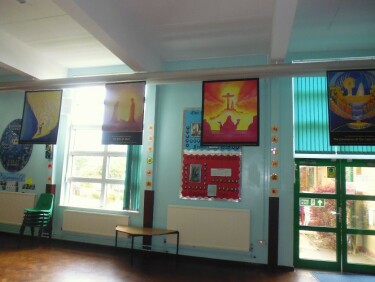 Many of Elizabeth's images are being exhibited in Catholic schools in the Coventry area. The touring exhibition is organised by Mrs Kate Connelly, Head Teacher of Our Lady of the Assumption Primary School in Coventry.
The images, large-scale reproductions from previous London exhibitions, will travel round local schools over the next few months, and be used as part of the RE and catechetical programmes in the schools, and as part of the more general faith-formation for staff and parents. We hope to share more news and photos as the exhibition makes its way across the city.
These pictures are from the current exhibition at Our Lady of the Assumption.