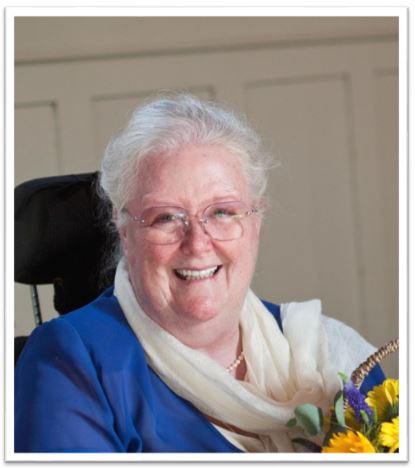 This is homily given by Fr Stephen Wang at the Requiem Mass for Elizabeth Wang, 22 Sept 2016, Our Lady of Lourdes Catholic Church, Harpenden:
The end came very quickly. Mum was diagnosed at the end of June; she died eleven weeks later on the 10th September. For us as a family, and perhaps for many of you as well, there is a strange mix of grief and gratitude. I won't try to describe the grief; it's too raw for us still, and too personal. But the gratitude is much easier: We are so grateful for her life, and in a particular way for the time we have had together over these last few weeks. Conversations and prayers that wouldn't have happened otherwise; celebrating the last sacraments; and being together around her bedside when she breathed her last breath. To use the old-fashioned phrase, I think it was a happy death. We thank God that her suffering is over and that she is at peace.
I don't want to tell her life story: this is a homily, not a eulogy. But it seems right to talk about the things she loved, and to see what they mean in the light of eternity.
She loved her family and friends. Her mum and dad and brother Dave, who have gone to meet the Lord; and her dear sister Germaine and her family here today. The three children: myself, Chris and his wife Kerry, and Mary and her husband Mike. The four grandchildren, who have given her so much joy over the last few years, Matthew, Elsa, Martha and Thomas. We have some lovely recent photos and videos of them all, and especially little Thomas sitting beside mum's bed in his high chair, laughing and throwing food into every corner of the room, clapping himself whenever he manages to do something noteworthy, completely oblivious to the anxieties of the adults around him.
And she loved her dear husband, Kin, dad, over the 53 years of their marriage; and was so grateful for his love and care, expressed in a special way through all his kindness and tenderness over these last few weeks of her life. They met in the early 60s at a Christmas concert for healthcare students at UCH in central London, a classic medical romance. He was playing the clarinet; she was playing her guitar. Thank God for their faithfulness to each other, and their quiet witness to Christian marriage, over these many years.
Mum loved her Christian faith, which was passed on to her by her parents, and deepened when she felt called to enter the Catholic Church nearly 40 years ago. The Prophet Isaiah says in the first reading: "See, this is our God in whom we hoped for salvation; the Lord is the one in whom we hoped. We exult and we rejoice that he has saved us". This is what she discovered as a young woman; coming to know the love of Christ, the Way, the Truth and the Life; coming to know that to see him is to see the Father.
One of her best known paintings is "Christ the Bridge to Heaven". The crucified Jesus stands in a dark canyon; his outstretched arms forming a bridge from one side to the other; and streams of people, tiny figures, walk in procession across his arms, to the light and safety of the landscape beyond. This was mum's absolute core conviction, and she would have died a thousand deaths to defend it: that Jesus is the love of God made visible, and that we can find peace and salvation in him alone.
Mum loved the Church. Church with a big "C": the Body of Christ; the Sacrament of Salvation. And church with a small "c": this building here, this community, this parish – her Christian home since the family moved to Harpenden in 1970. A place of so many prayers and encounters. A place of sanctuary. I can still hear the echo of her electric wheelchair gliding across the wooden floor.
She loved her ordinary parish liturgy, meeting the Lord in the Mass each morning. She loved to visit Westminster Cathedral for ordinations and special occasions. She loved the Traditional Latin Mass for its dignity and solemnity. She loved her annual visit to the Youth 2000 Summer Festival in Walsingham, for the Perpetual Adoration and the worship music and the devotion of so many young people. She loved her annual pilgrimage to Lourdes with the Diocese, which kept her close to so many friends, and to the Blessed Virgin Mary and St Bernadette.
For her, the mark of a worthy liturgy was not that it was in a particular style or form, it was that it gave glory to God. There was joy for her whenever God was put at the centre, and sadness whenever there was any irreverence or lack of appreciation for the presence of the Holy One in our churches and our liturgies. The Letter to the Hebrews say: "What you have come to is Mount Zion and the city of the living God, the heavenly Jerusalem where the millions of angels have gathered for the festival… You have come to God himself...and to Jesus, the mediator who brings a new covenant and a blood for purification which pleads more insistently than Abel's". If we really knew this, as she did, perhaps our hearts would be a little more attentive whenever we entered a church for prayer, our minds a little more recollected.
And mum loved beauty, especially colour. My very human sadness is that I can't take her to the Abstract Expressionism exhibition that opens at the Royal Academy this weekend. These painters and their Expressionist forebears were her masters when it came to colour. She would have spent hours there.
She was an artist, I guess from the day she was born. And when she discovered that the Author of all beauty, the creator himself, was more beautiful than everything he had created, she longed to paint him and communicate his beauty. That's what her work is about. She insisted that she was a realist painter; that she had no imagination and was not capable of inventing religious images; that she wanted to express the truths of faith as she had seen and understood them. Nothing more and nothing less. It wasn't her light, her creativity; it was Christ, the Radiant Light of God's glory, as the Letter to the Hebrews puts it.
I know that mum has touched the lives of many people – through her painting and writings, through her faith, through her friendship and kindness. Thank God for this; and part of a funeral is thanking God for the blessings that he has given someone, and given to others through them. But she would want to be remembered for her weaknesses; and not for her strengths or virtues. Despite her gifts, she was a very ordinary person, with many burdens and insecurities. She suffered a lot. But was her weakness that brought her to know her need for God, and then to know his unconditional love for her, and his unconditional love for all people. This experience of weakness allowed her to reach out with such compassion to others in their weakness.
A few days before she died she said to me, "Tell people that no matter how weak they are, no matter what they have done, God loves them and longs for them to find peace with him." It made me think of another of her paintings, one that has been travelling round the country on the front of Salford's Mercy Bus. An anonymous figure, tired a slightly crumpled, sits beside Jesus on a bench, her head resting on his shoulder, his left arm holding her tenderly. It's mum of course, but she's there as a "everyman" figure, standing in for each one of us. It's not about her. It's about Christ's love for each one of us, especially in our experience of weakness and vulnerability.
Thank you for being here today. Thanks for your love for mum and for your support for dad and the family. Thanks especially to those who cared for her and helped us to care for her over the last few weeks of her life. And above all, thank you for praying for her. Yes, she had a strong and sincere faith. She loved Jesus and his Blessed Mother and his Holy Church. But she was a sinner in need of God's mercy. And that's what we pray for in the Mass now.